Commercial interior designing is the way of designing an interior for commercial spaces. It includes commercial office design, commercial restaurants design, hotels & bars design, gymnasiums design, commercial interior designers and more.
These are the places where you'll observe so many footfalls. People visit these places regularly. Therefore, being the owner, you would want more people to revisit these places. It is achieved by making them look attractive and appealing.
And, to make this happen, you have to look for some experienced interior designers who can renovate your old unpleasant building into a lovable one.
There are five rules that any commercial interior designer must follow to ensure a successful commercial interior design. The list includes:
Flexible Design Structure
Most office interior asks for convertible designs and structures that can be converted following the owner's preference and choice.
There is a high probability that you being the owner of the commercial property constructing the office space for renting purposes. In that case, some companies may like the interior you've predesigned; there are other companies also who would want to adjust the theme in a way such that it would show their brand's identity.
This is why expert commercial interior designers take care of all these things and design a stunning yet convertible structure that can be reshaped for various versatile operations.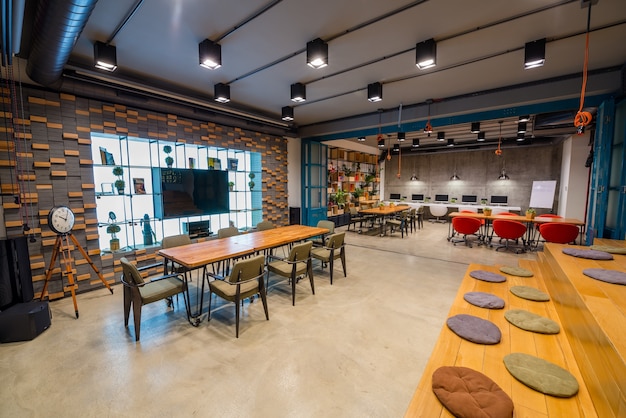 Technology Implementation
Technology has become so advanced that it is now a crucial part of our life. Years before the invention of smartphones, it used to look like an unimaginable thing. With technology, everything has changed and taken a particular shape.
Commercial interior designers have also been adopting this technology change and applying it in various commercial interior design projects as they understand its necessity.
Implementation of technological systems such as ensuring telecommunication system, proper channeling of computers, installing televisions, media players, etc. are crucial things that they keep in mind.
Further, they also install a systematic centralized digital control system for the visitor's comfortability.
These types of technological implementation are done by skilled commercial interior designers who hold expertise in working on such projects.
Comfortable Personalized Spaces
In this fast-moving world, everyone is busy in their own journey. Some are enjoying it while some don't get enough time to enjoy it.
Therefore, to give these busy people a comfortable and relaxing time of life, interior designers come up with some creative and interesting ideas to turn the existing space of any hotel or restaurant into a usable one.
Commercial interior designers with their years of experience provide a simple yet effective idea that ensures the safety, functionality, and looks of the interior that is designed.
E.g., Restaurants can offer indoor or outdoor seating plans such as garden seating pan, terrace seating plan, poolside seating, etc., and let customers choose the arrangement as per their choice. This unique way of seating arrangement can bring a huge change in overall revenue as the customer will repeat seeing this type of arrangement.
This was rule number three that a commercial interior designer follows.
Versatile Structure
Keeping structure versatile is one of the crucial steps a commercial interior designer should consider. Having a versatile structure doesn't only allow further renovation (if required) but also helps you save extra bucks that would have been spent during re modification of the interior.
Do you know how your interior designers keep structure versatile?
Well, they use alterable objects such as lighting, equipment, furniture, cabinets, etc., and make their place in a way such that they can be adjusted according to the need arises.
Moreover, in commercial projects such as restaurant interior design, commercial office design, gym interior design, cafeteria design, etc., this approach of structure versatility must be applied.
Safety & Security
This is again the most important factor that a commercial interior designer considers while working on any commercial project. There are some rules and regulations that you can't deny following.
Safety and security come under those rules. To ensure any particular design safety must not be compromised at all. In fact, it's a moral obligation of the interior designer and the client and must be fused into the interior design.
Creating secure office space allows employees to work comfortably and calmly. Designers who are experts in commercial office design ensure that these features must be included in a commercial project.